The Best Cordyceps Gummies: Our Top Picks for 2023 | Tested & Reviewed
*Last updated on July 18, 2023*

Looking for cordyceps gummies? You're in the right spot. We've carefully reviewed multiple cordyceps gummy brands, personally tested each one, and ranked them using strict criteria. Our aim is to offer you safe, effective choices that meet top-quality, potency, and value standards. If this is what you need, read on.
So, without further delay, let's dive into our review of the top 8 cordyceps gummies for 2023, and find the perfect one that suits your needs.
Best Cordyceps Gummies at a Glance
8 The Best Cordyceps Gummies in 2023
After thorough market research and self-testing, we bring you a handpicked selection of the best cordyceps mushroom gummies for 2023. We've carefully assessed and compared these gummy supplements, saving you the effort. Now, you can confidently explore our recommended cordyceps mushroom gummies to find the ideal option for your needs and preferences.
#1 Best Overall: Fungies Cordyceps Mushroom Energizing Gummies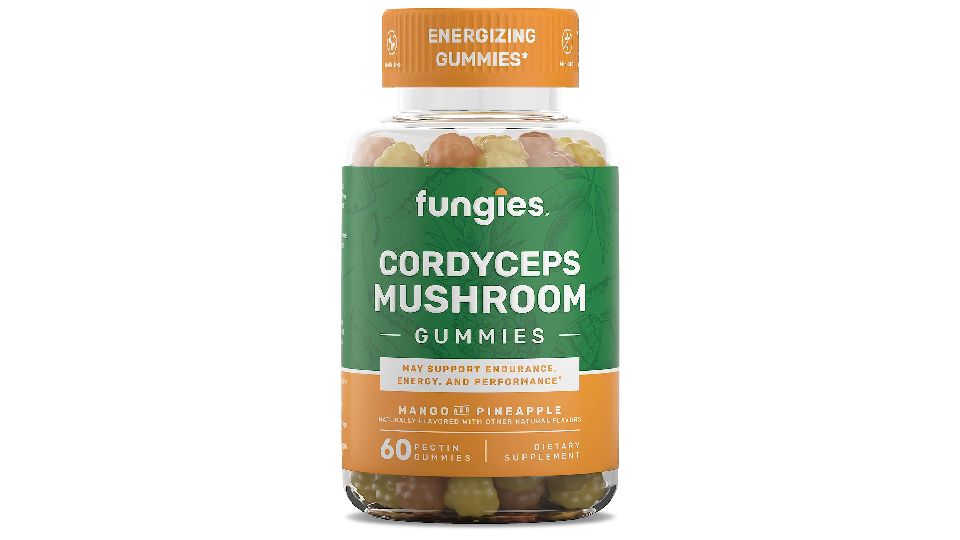 Pros
Provides a natural energy boost 
Delicious mango and pineapple flavor
Supports healthy immune function 
Free from artificial dyes
Affordable price
Only need to take one a day
100% Vegan, gelatin-free, gluten-free, have no GMOs
Cons
may take a while to show their effectiveness
3g added sugar
Why It's Worth It: Fungies Cordyceps Mushroom Energizing Gummies offer highly affordable pricing while ensuring uncompromised product quality. Each serving contains the equivalent of 500mg of Cordyceps mushrooms, a natural adaptogen known for fighting fatigue, boosting energy, and supporting a healthy immune function. These delicious gummies, flavored with mango and pineapple, contain no artificial colors but do have 3g of added sugar.
Editor's Tip: Just one gummy a day is all you need to say goodbye to sluggish days and infuse your life with energy.
Who It's For: Anyone seeking an increase in energy levels and immune support without the taste of mushrooms.
A one-time purchase of a 60-gummy bottle costs $17.96($0.30 per serving), for 60 servings.
#2 Sugar-Free: Tinies Bers Cordyceps Mushroom Gummies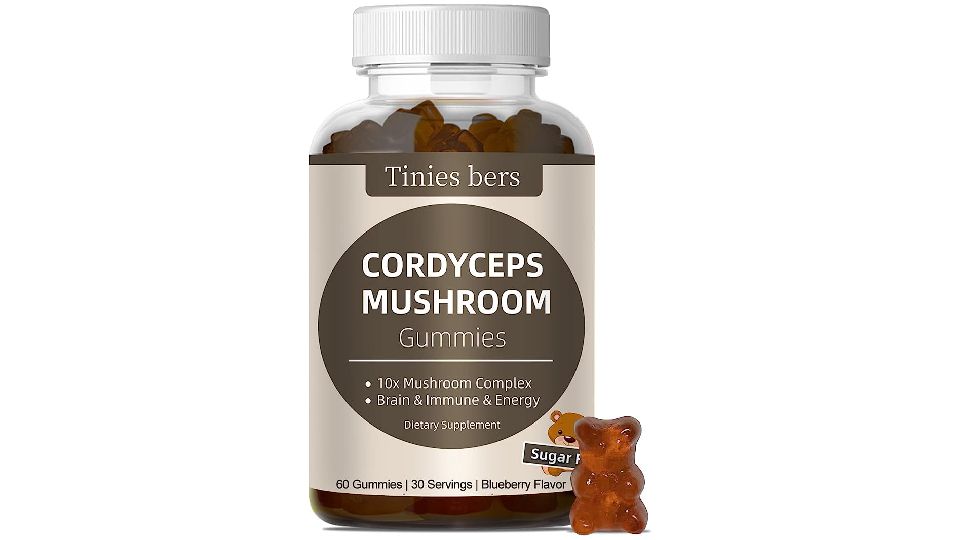 Pros
Designed for the brain, heart, gut, and immune health
Tasty, with a typical berry gummy flavor
Sugar-free
Mostly made from natural ingredients
Contains all fruiting body extracts
Reasonable price compared to competitors
Lab-tested
Cons
The title may mislead, as it suggests the supplement is solely for cordyceps but includes extracts from ten different mushrooms
Why It's Worth It: Tinies Bers Cordyceps Gummies offer the first guilt-free choice in the market. They are free from glucose syrup, sugar, or cane sugar and made with only natural colors and flavors. Each serving contains 400mg of cordyceps and three other types of adaptogenic mushrooms: Lion's mane, reishi, and chaga. These adaptogenic mushrooms effectively relieve fatigue and stress. Additionally, the gummies include six other mushrooms, all providing extensive benefits. They are designed to enhance brain function, provide immune support, increase energy, and improve cognitive performance. Additionally, they combat brain fog, boost memory, and offer anti-aging properties. If you're looking for a high-quality, sugar-free mushroom gummy, this is one you can't miss.
Editor's Tip: You can enjoy the benefits of the 10 blends of medicinal mushrooms with just two gummies per day, totaling 2500mg of mushrooms combined.
Who It's For: Those seeking the delicious and health benefits of 10 blends of mushrooms with a sugar-free option.
A one-time purchase of a 60-gummy bottle costs $19.99 ($0.66 per serving), for 30 servings.
#3 Best Pure Cordyceps Extract: Greabby Cordyceps Mushroom Gummies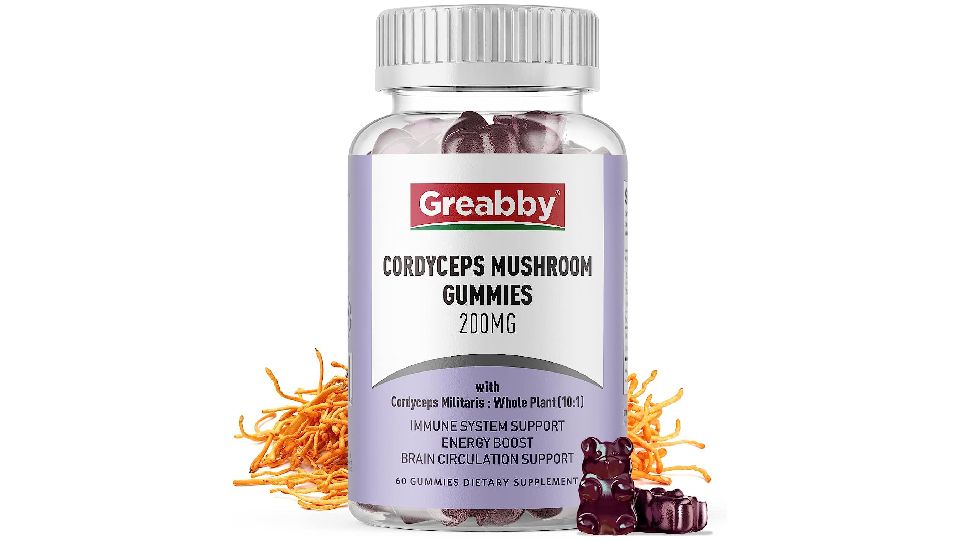 Pros
Supports the immune and boosts energy
Supports brain circulation, improves memory
Delicious blueberry flavor 
Non-GMO and vegan-friendly
Focusing solely on high-purity Cordyceps extract
Third-party tested
Why It's Worth It: Greabby Cordyceps mushroom gummies are committed to using high-purity Cordyceps extract, providing 2000mg per serving for anti-aging, brain health, and immunity. With 2g of sugar per serving, they strike a reasonable balance. These gummies act as an effective immune defense booster, helping your body stay strong throughout seasonal changes. Enriched with Alpha and Beta Glucans, they support your immune system naturally and enhance memory levels. They have proven to be highly effective in delivering that boost and improving motivation and drive. These blueberry-flavored cordyceps mushroom gummies are natural, non-GMO, and vegan.
Editor's Tip: These gummies have a mild mushroom flavor, and you can take 2 gummies per day to enjoy 2000mg of cordyceps extract.
Who It's For: Anyone seeking pure cordyceps to elevate your energy levels, anti-aging antioxidants, and year-round immune support.
A one-time purchase of a 60-gummy bottle costs $18.99 ($0.64 per serving), for 30 servings.
#4 Best for Mood and Energy: Drops Of Nature 8-Blend Organic Mushroom Gummies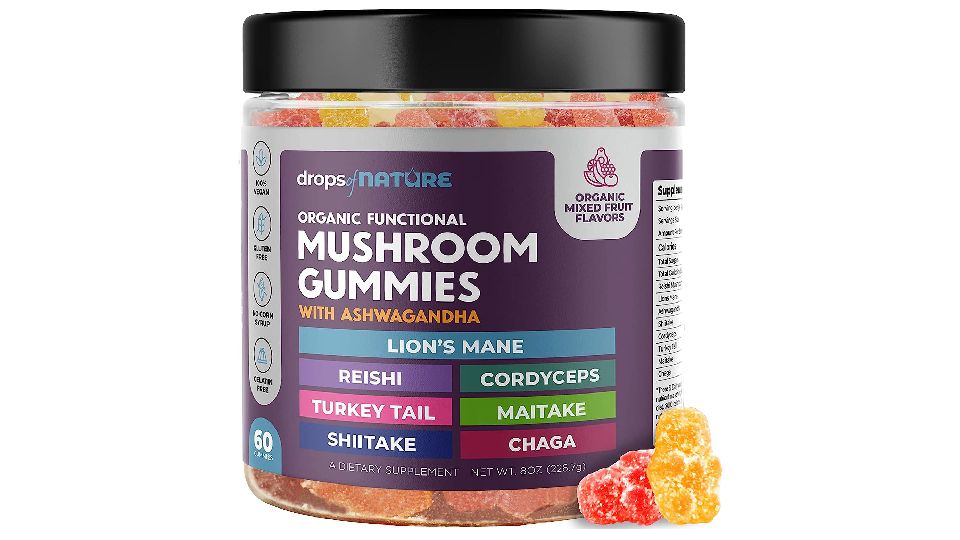 Pros
Advanced blend of mushrooms
Supports immune system
Carefully crafted for purity, safety, and effectiveness
High-quality ingredients
Vegan-friendly, non-GMO, and gluten-free
Cons
It has a heavy, crunchy coating of fake rock sugar 
Take longer to enjoy its effect
Why It's Worth It: These gummies bring together 8 medicinal mushrooms, with each mushroom extract at 250mg, totaling 2000mg of mushrooms. They aim to boost your immune system, enhance mental clarity, and rebalance your mood and energy. They source only the highest quality ingredients to bring you the best possible product. Furthermore, they contain 1.5g of sugar, slightly lower than other brands, so you can enjoy them without worrying about excessive sugar intake.
Editor's Tip: Take one per day, but be aware of the crunchy sugar coating, and it could give you a gas feeling if you eat it on an empty stomach.
Who It's For: Anyone looking to feel sharper, more focused, and experience an overall mood lift.
A one-time purchase of a 30-gummy bag costs $22.46($0.74 per serving), for 30 servings.
#5 Best for Brain Health and Immunity: Effective Nutra 10-Blend Mushroom Gummies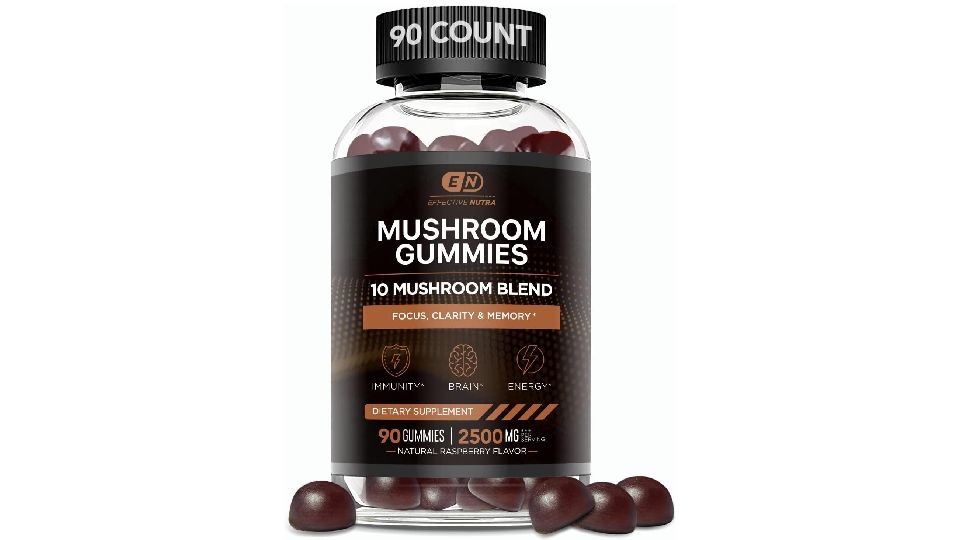 Pros
Combined 10 different mushrooms
Designed for brain function, immune system support, increased energy, and focus
No artificial colors
Vegan, gluten-free, non-GMO
Third-party tested
Made in USA
Cons
High in sugar: 5g added sugars per serving
Lack raspberry flavor
The taste is terrible
Why It's Worth It: These gummies offer a carefully selected blend of 10 mushrooms, including Maitake, Shiitake, Lion's Mane, Reishi, Cordyceps, Chaga, Turkey Tail, White Button, Black Fungus, and Royal Sun Extract. Each serving contains 250mg of cordyceps and a total of 2500mg of all mixed mushrooms. This potent mushroom complex may boost your brain function, support your immune system, and increase your energy levels. The product undergoes rigorous third-party testing and holds a GMP certification to ensure quality.
Editor's Tip: The raspberry flavor might not be everyone's favorite. If you're conscious of your weight, it's important to note that each serving contains 5g of sugar.
Who It's For: If you're looking to increase your energy, focus, and memory.
A one-time purchase of a 90-gummy bottle costs $19.95($0.44 per serving), for 45 servings.
#6 Best for Gut Health and Metabolism: Betterbrand 10-Blend Mushroom Gummies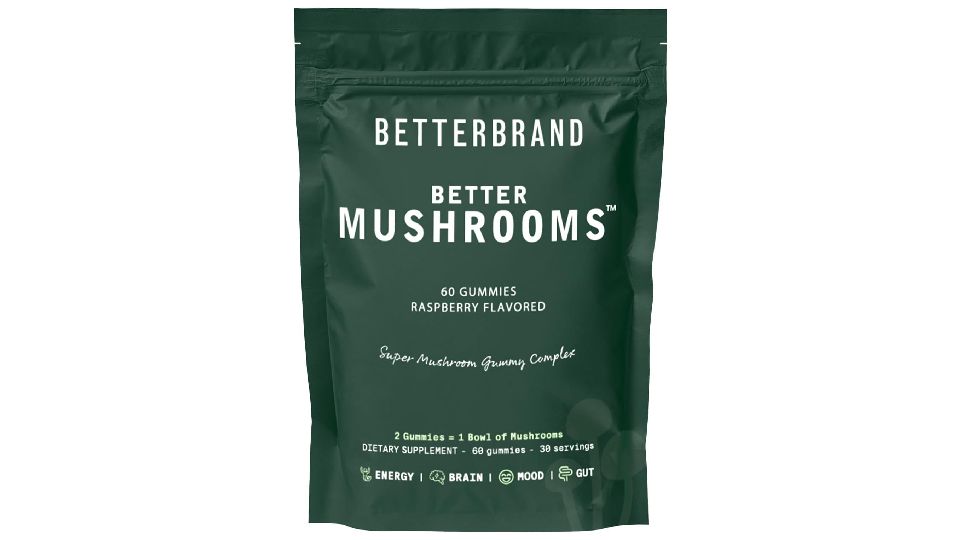 Pros
Improve energy and focus
Supports gut health and metabolism
Made in the USA
Formulated by a doctor of pharmacy
Delicious raspberry flavor
No fillers
Exact dosages for maximum effectiveness
Cons
Pricer than competitors 
The gummies come in a bag, which can be difficult to store
Take longer to enjoy its effect
Why It's Worth It: Betterbrand Mushroom Gummies are crafted in the USA by a dedicated doctor of pharmacy, ensuring a product you can rely on. These gummies feature not only cordyceps but also a carefully selected blend of 9 other medicinal mushrooms. They use the fruit body for all the mushroom extracts, the most beneficial part of the mushrooms, and offer a delightful raspberry scent and flavor. This blend includes the power of Chaga, Reishi, Turkey Tail, and Maitake mushrooms, which together support your immune function and promote a healthy gut, ensuring you feel your best. And that's not all—Lion's Mane and Cordyceps mushrooms are here to supercharge your cognition and boost your energy levels.
Editor's Tip: You can take 2 daily, and it contains 250mg of Cordyceps, totaling 2500mg of mushrooms combined. Just a heads up, each serving contains 5g of sugar, so you may want to brush your teeth after eating them.
Who It's For: Anyone looking for a boost in energy and alertness while supporting both body and mind.
A one-time purchase of a 60-gummy bottle costs $39.95($1.34 per serving), for 30 servings.
#7 Best Nootropic for Cognitive Support: UR Treasure Nutrition 10 Blend Mushroom Gummies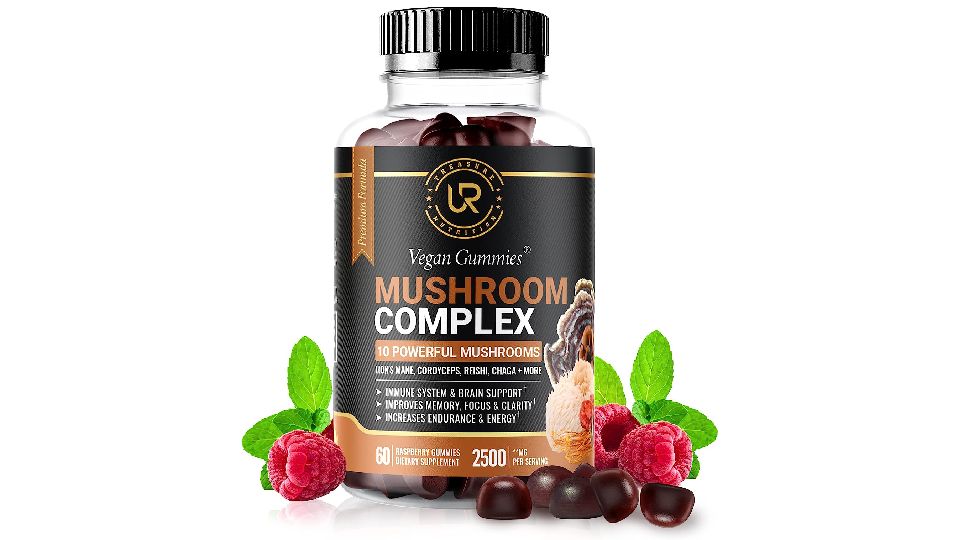 Pros
Brain Booster For Focus, Memory, Clarity, Energy 
Delicious raspberry flavor
Made with whole mushroom fruiting bodies
No fillers or artificial ingredients
Third-party lab tested
FDA registered
Mondy back guarantee
Cons
Only one flavor
Take longer to enjoy its effect
Why It's Worth It: UR Mushroom Gummies are manufactured in the USA, offering not only amazing taste but also a range of benefits, including increased energy, improved memory, and enhanced concentration. They are an incredible brain superfood that enhances memory recall, reduces brain fog, and brings clarity. Each serving contains a unique blend of 10 mushrooms, totaling 2500mg of mushroom extract. Loaded with health-boosting vitamins, minerals, and antioxidants, this medicinal mushroom supplement helps your body adapt to physical, chemical, and biological stress and promotes the production of nerve growth factors. They use the whole mushroom fruit body with no fillers, mycelium, extra starch, or grains. Moreover, they undergo strict quality control and are tested by a third-party laboratory.
Editor's Tip: It's important to note that these gummies contain 5g of added sugar per serving. You can take two gummies daily to enjoy their benefits.
Who It's For: Anyone looking to boost energy levels and productivity, sharpen focus, and even enhance athletic performance.
A one-time purchase of a 60-gummy bottle costs $17.95($0.60 per serving), for 30 servings.
#8 Best for Immune Defence: Cure Mushrooms Cordyceps Gummies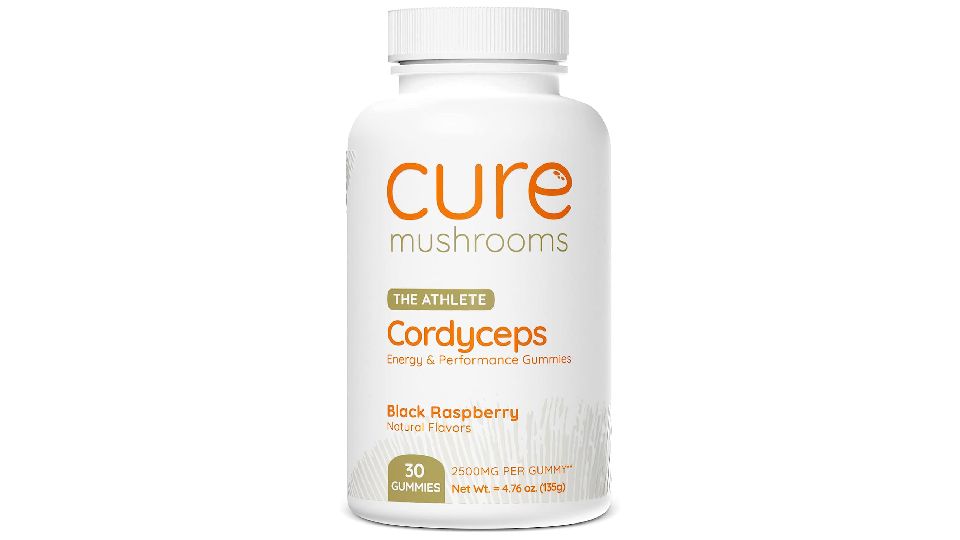 Pros
Boosts energy levels and enhances performance.
Blackberry flavor
Made with U.S. homegrown mushrooms
Third-party tested
Contains high cordyceps extract
Only need to take one gummy a day
Cons
Not as effective as it claims to be
Currently available in a single flavor
Take longer to enjoy its effect
Why It's Worth It: Cure Mushrooms Cordyceps Gummies stand out for their extraction process. They begin by fermenting mushrooms to increase their bioavailability, followed by a hot water extraction to isolate water-soluble polysaccharides, and finally, they isolate the triterpenoids. This meticulous process ensures that the gummies are potent and effective, allowing your body to easily absorb the beneficial elements of the mushroom. The brand exclusively uses U.S. homegrown mushrooms and provides third-party tests for heavy metals and other toxins. They also use natural ingredients, including pectin, a fruit-based water-soluble fiber.
Editor's Tip: Simply chew and enjoy one gummy a day. The company offers a high dose of 2500mg of Cordyceps mushroom per serving, with 3g of sugar.
Who It's For: Anyone looking to improve concentration, and receive immune support.
A one-time purchase of a 30-gummy bottle costs $21.59 ($0.73 per serving), for 30 servings.
Comparison of The Top 8 Best Cordyceps Gummies
| | | | | |
| --- | --- | --- | --- | --- |
| Brand | Cordyceps Content | Price per Bottle | Price per Serving | Servings per Bottle |
| Fungies | 500mg | $17.96 | $0.30 | 60 |
| Tinies bers | 400mg | $19.99 | $0.66 | 30 |
| Greabby | 2000mg | $18.99 | $0.64 | 30 |
| Drops Of Nature | 250mg | $22.46 | $0.74 | 30 |
| Effective Nutra | 250mg | $19.95 | $0.44 | 45 |
| Betterbrand | 250mg | $39.95 | $1.34 | 30 |
| UR Treasure Nutrition | 250mg | $17.95 | $0.60 | 30 |
| Cure Mushrooms | 2500mg | $21.59 | $0.73 | 30 |
Please note that it's always a good idea to double-check the information before making a purchase decision.
What is Cordyceps?
Cordyceps, a type of fungus that naturally grows on certain caterpillars in the high mountain regions of China, is now predominantly produced in laboratories due to its scarcity and high cost. Scientists have identified over 750 species of cordyceps, with approximately 35 of them demonstrating promising health benefits and medicinal properties. Cordyceps sinensis and Cordyceps militaris are among the most commonly used species. The fruiting body of cordyceps is the sought-after component for its potential health advantages. Traditionally, people ground and cooked this part with tea and various herbs, although consuming it raw is also an option.
How Does It Work
Cordyceps works in the human body through its rich composition of biologically active compounds. One prominent compound, cordycepin, demonstrates potent anti-cancer, antioxidant, and anti-inflammatory properties[1]. Cordycepic acid, on the other hand, exhibits anti-inflammatory and anti-tumor effects, further enhancing its therapeutic potential. Adenosine, a nucleoside present in cordyceps, not only reduces inflammation but also helps prevent platelet aggregation.
Polysaccharides found in cordyceps contribute to immune stimulation and possess anti-inflammatory properties. Additionally, modified nucleosides in cordyceps display their own anti-inflammatory and anti-tumor effects.
Lastly, cordyceps contains cyclosporines, which possess immunosuppressive effects[2]. Together, these compounds work synergistically within the human body, offering a wide range of potential health benefits.
Benefits of Cordyceps Gummies
Cordyceps gummies have gained popularity as a supplement containing Cordyceps extract derived from Cordyceps sinensis and Cordyceps militaris. These gummies offer various potential benefits that may be advantageous to you:
Boost Exercise Performance
Anti-Aging Properties
Potential Anti-Tumor Effects
Manage Type 2 Diabetes
Benefits of Heart Health
Fight Inflammation
Boost Energy and Endurance
Support Healthy Immune Functions
It's important to note that most research on Cordyceps has been conducted on animals or in labs, and conclusive evidence regarding their effects on humans is still lacking. However, the potential health benefits of Cordyceps are promising, offering you a natural supplement option to explore.
Other Medicinal Mushrooms and Their Benefits
Reishi mushroom — also known as the "mushroom of immortality," has several uses in Eastern medicine. Eastern medicine practitioners believe that it can lower cholesterol, increase strength and stamina, boost the immune system, and treat lower urinary tract symptoms in males.
Chaga mushroom — a fungus that grows on birch trees in cold climates. People typically steep it in hot water and consume it as tea. It is believed to boost the immune system, reduce inflammation, and support liver health.
Cordyceps — a fungus found worldwide. It is parasitic in nature and infects various insects to produce its fruiting body, which is edible. It is thought to have anti-aging and anti-fatigue properties.
Turkey tail mushroom — a fungus that grows on dead logs all around the world. It gets its name from its shape and color, resembling turkey tail feathers. Traditional Chinese medicine uses it to treat pulmonary diseases, and it is also being studied for its potential as a cancer treatment.
Maitake mushroom — a nutrient-rich fungus used in traditional Asian medicine. It is believed to help manage diabetes, lower cholesterol levels, reduce high blood pressure, and boost the immune system.
Shiitake mushroom — an edible mushroom native to East Asia and commonly included in food dishes. It contains a sugar molecule called lentinan, which is believed to offer several health benefits. Although studies have explored its potential to lower high cholesterol and treat infections, clinical data supporting these uses are lacking.
Precautions & Side Effects
Cordyceps is generally considered safe for most people. However, it's important to be aware of certain precautions and potential side effects:
Precautions
If you have autoimmune diseases like multiple sclerosis, lupus, or rheumatoid arthritis, it's best to avoid using cordyceps as it may enhance immune activity and worsen symptoms.
Prior to undergoing surgery, it's recommended to discontinue cordyceps at least 2 weeks in advance, as it may increase the risk of bleeding during the procedure.
Since cordyceps is a fungus, individuals with mushroom or mold allergies may be at risk of experiencing allergic reactions.
Side Effects
Mild side effects of cordyceps can include diarrhea, constipation, and stomach discomfort.
The most commonly reported side effects are gastrointestinal problems like nausea, vomiting, and upset stomach.
Cordyceps may potentially cause hypoglycemia, affect blood clotting, and increase myelogenous cancer precursors.
Rare side effects may include dry mouth, increased bleeding, and exacerbation of autoimmune disease symptoms.
It's important to note that the safety profile of cordyceps remains relatively unknown due to limited well-designed clinical studies. Therefore, it's advisable to consult your healthcare provider before taking cordyceps supplements, particularly if you're currently taking medications or have any underlying health concerns.
How to Choose the Right Lion's Mane Supplement For You
When considering cordyceps gummy supplements, it's worth noting that these products often contain a blend of medicinal mushrooms rather than pure cordyceps. To ensure your safety, familiarize yourself with the specific formula of the gummies and check for any potential allergies or intolerances you may have. Take the time to carefully review the additional ingredients list to identify any possible interactions with prescription medications you might be taking.
Keep in mind that gummies tend to be sweet, so it's worth checking the amount of sugar per serving. Additionally, consider the available flavor options and choose the one that appeals to you the most.
The effectiveness of cordyceps gummies compared to other cordyceps supplements, such as cordyceps powder or capsules, is not different. Gummies use mushroom fruiting bodies and the double extraction method. Therefore, the choice between cordyceps gummies and other cordyceps supplements ultimately boils down to personal preference and lifestyle.
Remember, always consult with a healthcare professional before adding any new supplements to your routine. They can provide personalized advice based on your specific needs and circumstances.
How We Chose the Best Lion's Mane Supplements
In order to compile this list of top cordyceps gummy supplements, we took into account several important factors. These factors encompassed analyzing the supplement's specific formula, evaluating the reputation of the brand, confirming if third-party testing was conducted, assessing the price per serving, and considering feedback from consumers. Our intention was to present you with a comprehensive and informative assortment of cordyceps gummy supplements to assist you in making a well-informed choice.
Ingredients
Which specific raw materials does the product utilize, and what scientifically proven benefits do they offer? Furthermore, can you provide information on the form of these materials? For example, if the product contains a micronutrient, is it in a bioavailable form of the vitamin/mineral?
Extraction Method
What are the advanced extraction techniques used in obtaining lion's mane extract for supplements, such as hot water extraction or dual extraction? Does the mushroom powder solely consist of 100% mushrooms derived from fruiting bodies, rather than mycelium cultivated on grain like many other brands?
Dosage and Concentration
What is the recommended frequency for optimal results when using the product? How does the brand's recommended dosage compare to clinically-backed dosage recommendations for its intended purpose?
Manufacturing
Where is the product manufactured and what is the production process like? Does the brand use proprietary blends instead of providing a detailed list of ingredients? Is the product manufactured in a cGMP facility that follows quality standards? Additionally, do they consistently use proprietary blends instead of disclosing the exact composition of the product? Do they conduct regular annual audits to ensure adherence to best practices?
Additional Ingredients
Are there additional ingredients included in the product formulation? Does the product contain any grains, additives, or fillers?
Testing
What additional ingredients are included in the product formulation? Are all of these ingredients natural? Does the product contain sugar? If so, how much sugar does each serving contain?
Customer Reviews and Reputation
What are the customer ratings (pros and cons) for the product on the brand's website and third-party platforms like Amazon? Does the brand enjoy a positive reputation with satisfied customers and a robust track record of customer reviews?
Price Per Serving
What is the price for a single purchase? How much does each serving cost? How many servings does the product include? Is the higher cost of raw ingredients attributed to the brand or a proprietary blend of ingredients?
Amount of Mushroom Content Per Serving
What is the amount of mushroom content included per serving in the product? Does the product contain any other medicinal compounds? If so, how much of each compound is present in the product?
Brand / Company
How do customers perceive the brand in terms of reputation? Does the brand produce any other comparable products? Is the brand widely recognized and popular? Do health professionals trust or recommend the brand?
FAQs For Cordyceps Gummies
What Do Cordyceps Gummies Do?
Cordyceps gummies provide various potential benefits. They support immune function, aid in stress management, promote healthy respiratory function, and offer antioxidant properties. However, individual results may vary, and it's always advisable to consult with a healthcare professional.
Are Cordyceps Safe?
Yes, cordyceps are safe for most people when consumed as directed. Cordyceps are generally well-tolerated and have been used for centuries. However, it's always wise to consult with a healthcare professional if you have any concerns or specific health conditions.
What To Avoid When Taking Cordyceps?
When taking cordyceps, you should avoid exceeding the recommended dosage. Additionally, if you have any known allergies or sensitivities to mushrooms, it's important to exercise caution. Consult with a healthcare professional if you have specific concerns or are taking medications.
What Are The Benefits of Taking Cordyceps Daily?
The benefits of taking cordyceps daily include supporting energy levels, enhancing athletic performance, promoting respiratory health, boosting immune function, aiding in stress management, and offering potential antioxidant and anti-inflammatory properties. However, individual results may vary.
Summary: Are Cordyceps Gummies Worth It?
While research on Cordyceps is still limited, human studies suggest that it may improve high-intensity exercise tolerance and increase ATP production for muscle energy. If you're looking to enhance your exercise performance and boost energy levels, cordyceps gummy supplements are worth considering. Cordyceps also enhance oxygen utilization during exercise and provide adaptogenic support for energy and stamina. However, it's important to note that more research is needed to fully understand the benefits and risks. Remember to consult with a healthcare professional before adding these gummies to your routine.
References
1. Cordyceps militaris as a Bio Functional Food Source: Pharmacological Potential, Anti-Inflammatory Actions and Related Molecular Mechanisms. Retrieved from https://www.ncbi.nlm.nih.gov/pmc/articles/PMC8875674/
2. Effects of the Immunomodulatory Agent Cordyceps militaris on Airway Inflammation in a Mouse Asthma Model. Retrieved from https://www.sciencedirect.com/science/article/pii/S1875957209600048
Author