The Best Cordyceps Supplement: Our Top 5 Picks for 2023
*Last updated on Oct 19, 2023*
When choosing the best cordyceps supplement, you'll want to consider a few key factors. First, look for a supplement with high-quality cordyceps extract. Make sure it's standardized to contain specific active compounds like beta-glucan, cordycepin, and adenosine.
Also, consider the supplement's form. You can find cordyceps supplements in capsules, powders, gummies, or tinctures. Each has its pros and cons, so pick the one that suits your needs. We've reviewed various brands using strict criteria, aiming to offer you safe, effective options that meet high standards for quality, potency, and value.
In this review, we've thought about what's important to ensure that the selected cordyceps supplements are reliable and beneficial for you. So, let's jump into our top 5 cordyceps supplements for 2023 and find the one that suits you best!
Best Cordyceps Supplements at a Glance
1. Real Mushrooms Capsules — BEST OVERALL

2. Real Mushrooms Powder — BEST POWDER

3. Bulk Supplement — BEST VALUE

4. Host Defense — BEST FOR ATHLETES

5. Fungies — BEST GUMMIES

6. Uphoric Urth — BEST TINCTURE
5 Best Cordyceps Supplements in 2023
We have thoroughly researched the market to bring you a list of the best cordyceps supplements. These are the top-rated providers we carefully selected based on our criteria. Rest assured that these supplements meet all the mentioned criteria for quality and effectiveness. We've done the hard work of evaluating and comparing them for you. So, now you can easily choose from our recommended cordyceps supplements with confidence. Take a look at our list and find the perfect option that suits your needs and preferences.
#1 Real Mushrooms Cordyceps – M Capsules – overall best cordyceps supplement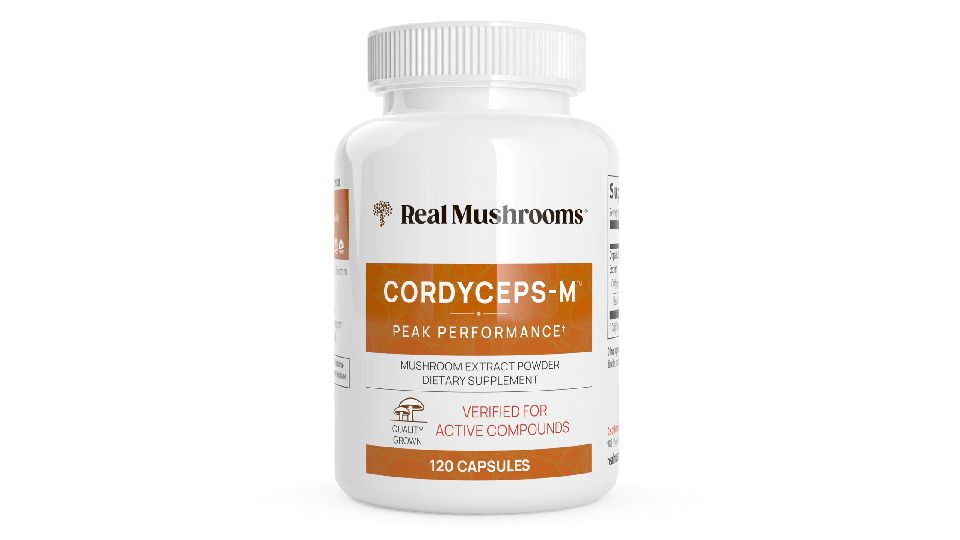 Pros
Cognitive boost, energy, and clarity.
Verified beta-glucan level
Hot water Extracted 
Third-party tested
100% organic mushroom extract
Only use fruiting bodies
Completely free from grains, mycelium, additives, or fillers
Thousands of satisfied customer reviews
Cons
Unpleasant taste
The capsules can be difficult to swallow
In our opinion, the best cordyceps supplement we tried, considering both cost and quality, is Real Mushrooms Cordyceps-M Capsules. This remarkable brand boasts over 40 years of experience in cultivating mushrooms and was one of the first to introduce mushroom extracts to the North American market. Third-party labs confirm that their cordyceps supplements contain over 25% beta-glucans, renowned for their immune-boosting properties, a feature not found in other brands. If you're interested, we've prepared a review of the Real Mushrooms brand for you to learn more about it.
They use hand-picked Cordyceps Militaris extract as the foundation of their supplement, and their supplements are manufactured in NSF-certified facilities in the United States. They are dedicated to using 100% pure organic mushroom fruiting bodies, without mycelium grown on grain, additives, or fillers, ensuring maximum purity.
Of course, like anything, there are some drawbacks. Firstly, the capsule size is a bit on the larger side, which could be a challenge for some people, though we find it's manageable. Additionally, if you're outside the US and Canada, you'll have to purchase through Amazon.
Overall, If you're looking to naturally enhance your energy levels and support your immune system, Real Mushrooms Cordyceps-M capsules are a valuable addition to your routine.
How to Take Them
Just take two capsules each day. If you like, you can also open a few capsules and mix the contents into your meals or drinks. This flexibility makes it easy to include in your routine.
A one-time purchase of a 120 capsules bottle costs $29.95 ($0.49 per serving), 60 servings. While 300 capsules can bought for $59.95 ($0.39 per serving).
📢 SPECIAL OFFER: Subscribe for monthly Real Mushrooms delivery, save 15%!
#2 Real Mushrooms Cordyceps – M Extract Powder – best cordyceps powder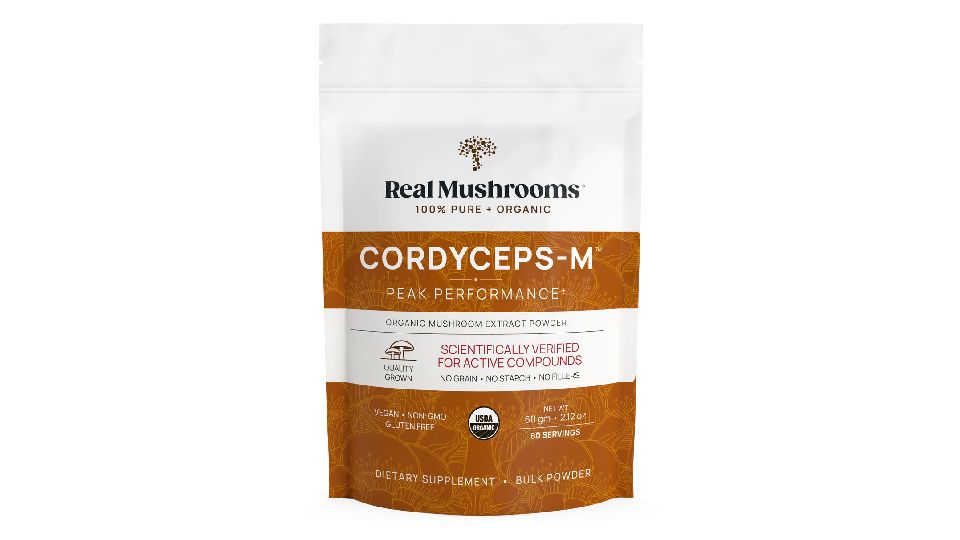 Pros
Natural immune support
Potential cognitive and energy boost
Measured beta-glucan levels
100% mushroom fruiting bodies 
Enhance absorption rates quickly
Do not contain grains, mycelium, additives, or fillers
Thousands of positive customer reviews
High-quality, NSF-certified product
100% pure organic mushroom extract
Cons
Taste variability, not chocolate-like.
Packaging concerns (seal not working)
As mentioned above, Real Mushrooms capsules rank as our top pick for the cordyceps supplement. If capsules aren't your thing, you should consider trying their extract powder. The powder is created by extracting Cordyceps Militaris using hot water techniques. And it contains two key active ingredients: Beta-glucans and Cordycepin. Each serving gives you 250 mg of beta-(1,3)(1,6)-glucans, which are known for naturally supporting your immune system. Cordycepin, on the other hand, is associated with a range of health benefits, including an energy boost. Plus, this product undergoes third-party testing, offering you an extra layer of quality assurance.
How to Take Them
The recommended dosage is one gram, equivalent to approximately half a teaspoon, per day. You can simply mix it with warm water or add it to your tea, coffee, smoothies, soup, or even baked treats. This allows you to enjoy the advantages of cordyceps in your daily routine with ease.
A one-time purchase of a 60g (pack of 1) costs $29.95 ($0.49 per serving), 60 servings. While 150g can bought for $59.95 ($0.39 per serving).
📢 SPECIAL OFFER: Subscribe for monthly Real Mushrooms delivery, save 15%!
#3 Bulk Supplement Cordyceps Powder – best value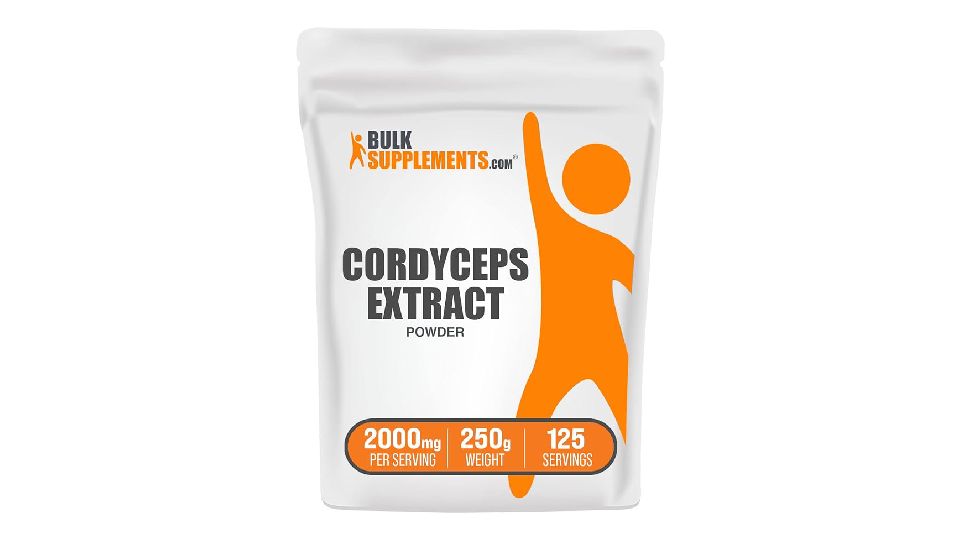 Pros
Quality manufacturing, cGMP standards
No artificial flavors or fillers
Dietary friendly – gluten, dairy, soy, sugar-free
Pleasant taste
Affordable
Blends well with various beverages
Potential health benefits, including improved heart health and increased energy
Thousands of positive customer reviews
Cons
Packaging concerns – not resealing properly
Contains dextrin
Unknown beta-glucan level
If you're looking for a high-quality yet budget-friendly Cordyceps supplement, your search ends here with Bulk Supplement Cordyceps Powder. Crafted from Cordyceps Sinensis sporocarp, this product excels in unwavering dedication to top-tier manufacturing. It complies with cGMP standards, ensuring every aspect, from production to packaging, is handled with meticulous care and precision.
The remarkable part? We have noticed significant enhancements in lung capacity, mental clarity, and overall efficiency, underlining its effectiveness. Furthermore, this Cordyceps powder is devoid of artificial flavors and fillers, guaranteeing pure Cordyceps goodness without unwanted additives. For those with dietary restrictions, rejoice – it's gluten-free, dairy-free, soy-free, and sugar-free. But that's not all. The taste of this Cordyceps Powder is another huge win. While it may not taste like chocolate, it's far from unpalatable.
Now let's talk about the drawbacks. First, it lacks information about its beta-glucans level. Second, the packaging is not easy to reseal effectively. You might have to transfer the powder to a sealable container.
Overall, Bulk Supplement Cordyceps Powder is a top pick for those new to Cordyceps supplementation. Its dedication to quality, clean ingredients, great value, and various health benefits make it a standout choice.
How To Take Them
The recommended dosage is two grams, equivalent to approximately 3/4 tsp, per day. You can easily blend it with your coffee, chocolate, or matcha, making it a fantastic choice for those who like to get creative with their supplements. Enjoy the benefits without the hassle.
A one-time purchase of a 250g (1 pack) costs $17.96 ($0.14 per serving), 125 servings.
#4 Host Defense Cordyceps Capsules – best cordyceps supplement for athletes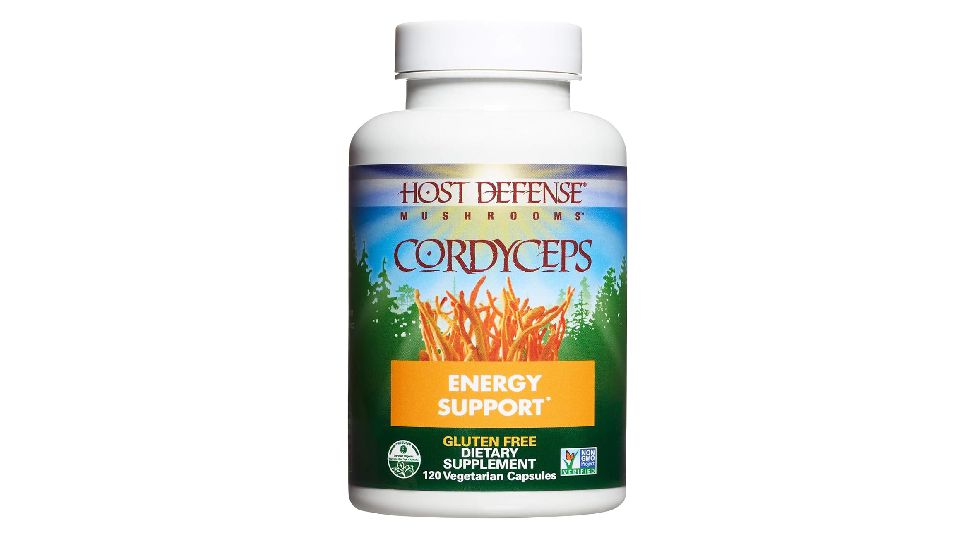 Pros
Natural energy boost for athletes
Contains polysaccharides
Grown in the USA
100% organic and natural
Meticulous NSF-certified manufacturing
High-quality Cordyceps extract
Cons
Unpleasant taste
Contains Grains
Unknown beta-glucan level
Pricey
Hose Defense Cordyceps Capsules is an excellent choice if you're seeking a natural energy boost, and immune support, especially for athletes and fitness enthusiasts. This brand was founded by the renowned mycologist Paul Stamets, who created Host Defense Mushrooms to bridge the gap between people and fungi. You might want to check out his fascinating interview with Joe Rogan for more insights.
Host Defense produces their capsules in NSF-certified US facilities, ensuring top-notch quality and safety. Using certified organic, they keep the product free from harmful chemicals, benefiting both consumers and the environment. This supplement utilizes Cordyceps extract, highlighting premium beta-glucans and Cordycepin. What stands out is its ability to provide an energy boost, ideal for pre-exercise, and can effectively replace caffeine.
On the downside, firstly, it's worth noting that this product contains cordyceps militaris mycelium, not fruiting bodies, which might be a concern for some. Additionally, the exact beta-glucan levels are undisclosed. Lastly, if taken too late in the evening, it could potentially lead to insomnia.
Overall, Host Defense Cordyceps is an excellent option for those in need of an energy boost, immune support, and a top-notch supplement for athletes.
How to Take Them
Just take two capsules each day with warm water. Can be taken with food or without, on an empty stomach, or as recommended by your healthcare advisor. If you like, you can also open the capsules and mix the contents into your meals or drinks.
A one-time purchase of a 120 capsules bottle costs $44.96($0.74 per serving), 60 servings.
#5 Fungies Cordyceps Mushroom Energizing Gummies – best cordyceps gummies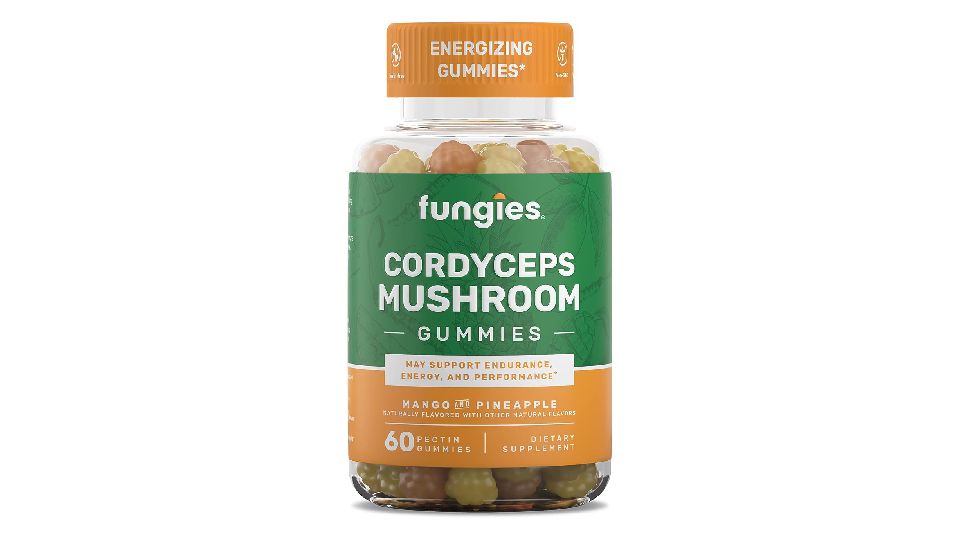 Pros
Tasty mango & pineapple flavor
Combat fatigue and boost energy
Supports immune function
Support your body's natural strength
Quality manufacturing
Vegan & allergen-free
Cons
Contain sugar
Unknown beta-glucan level
Limited information on the label
Benefits are vary
Looking to boost your energy naturally without the bitter taste of traditional mushroom supplements? If the answer is yes, consider giving Fungies Cordyceps Gummies a try. First, let's start with the taste – a vital consideration for your daily supplement. These gummies are not only a delightful treat; they come in mango and pineapple flavors, making them a tasty choice.
But it's not just about the taste. Each serving is packed with 500mg of Cordyceps Mushroom, a natural adaptogen renowned for its fatigue-fighting, energy-boosting, and immune-supporting properties. Fungies uses the whole cordyceps militaris plant, including the fruiting body, mycelium, and all its components.
Plus, they are made in an FDA-registered, cGMP-certified facility that's allergen-free, and there's free from artificial colors, using only natural ingredients. Additionally, they're also gelatin-free, gluten-free, non-GMO, and vegan-friendly.
On the flip side, it's worth noting that each serving contains 3 grams of sugar, and there's no indication of the beta-glucan level.
Overall, if you're seeking the benefits of cordyceps and have a sweet tooth, these delicious gummies are worth a try. With regular use, you'll be on your way to feeling more vibrant and ready to tackle life's challenges.
How To Take Them?
Just take one gummy per day. These delicious gummies make it a treat, so you'll enjoy taking them daily. Be sure to stick to the recommended dosage mentioned on the label.
A one-time purchase of a 60-gummy bottle costs $16.16 ($0.26 per serving), 60 servings.
#6 Uphoric Urth Cordyceps Double Extract Tincture – best cordyceps tincture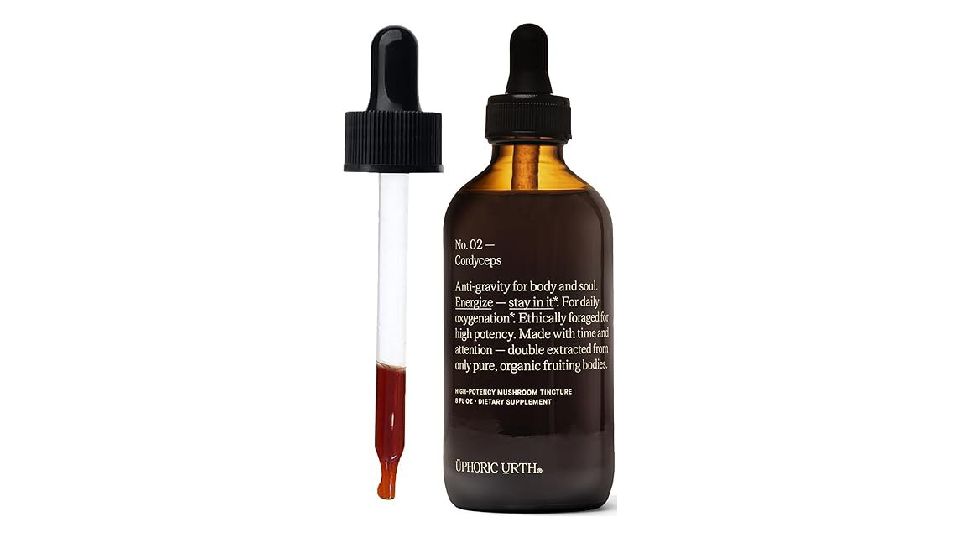 Pros
Improve energy and athletes' performance
Anti-aging effect
Double extraction for higher potency
Non-GMO, vegan, and gluten-free
Outgrown and wild-harvested mushrooms
Liquid form for high absorption
Only use mushroom fruitbody
Cons
Relatively expensive
Missing certain third-party certifications
Mild alcohol taste
Unknown beta-glucan level
Looking for an easy way to incorporate Cordyceps mushrooms into your daily routine? Uphoric Urth's Cordyceps Double Extract Tincture could be the answer you've been searching for. One of its standout features is the simplicity of its composition, containing just three ingredients: water, alcohol, and Cordyceps militaris mushrooms. They use 100% pure Cordyceps Militaris mushroom fruitbody, with a double extraction method for maximum potency. These mushrooms are sourced from the wild, never from lab-grown environments, ensuring natural quality.
Taste-wise, most find it pleasantly mild, making it easy to consume either directly under the tongue or by adding it to your morning coffee or smoothies. However, some people have noted a strong alcohol taste, which may not be everyone's preference.
On the flip side, the product's price point may be seen as a downside, as it's relatively more expensive compared to similar options on the market. But keep in mind that each bottle provides an impressive 8-month supply. While the tincture excels in many aspects, it does lack certain third-party testing certifications, which could provide extra transparency and reassurance.
Overall, this Cordyceps Tincture offers a simple and convenient way to make Cordyceps a part of your daily routine. If you're seeking higher energy and libido support or looking to enhance oxygen uptake, Uphoric Urth Cordyceps Tincture is certainly worth a try.
How To Take Them
Measure your daily 1 ml dosage using the provided dropper and place it under your tongue. Hold it there for 30 seconds to 1 minute before swallowing for faster absorption. Alternatively, mix the dosage into your beverage, making sure to stir or shake it well for even distribution.
A one-time purchase of an XL 8oz bottle costs $159.99 ($0.66 per serving), 240 servings.
Comparison of The Top 5 Best Cordyceps Supplements
| Product Name | Form | Beta-Glucan Level | Price (per serving) | Servings | Daily Dosage | Cordyceps Type |
| --- | --- | --- | --- | --- | --- | --- |
| Real Mushrooms | Capsules | >25% | $0.49 | 60 | 2 capsules | C. Militaris fruiting bodies |
| Real Mushrooms | Powder | >25% | $0.49 | 60 | 1g | C. Militaris fruiting bodies |
| Bulk Supplement | Powder | Unknown | $0.14 | 125 | 2g | C. Sinensis sporocarp |
| Host Defense | Capsules | Unknown | $0.74 | 60 | 2 capsules | C. Militaris mycelium |
| Fungies | Gummies | Unknown | $0.26 | 60 | 1 gummy | C. Militaris fruiting body and mycelium |
| Uphoric Urth Tincture | Tincture | Unknown | $0.66 | 240 | 1ml dropper | C. Militaris fruiting body |
Please note that it's always a good idea to double-check the information before making a purchase decision.
What is Cordyceps Mushroom?
Cordyceps, a type of fungus, usually parasitizes insects, especially moth larvae. It's renowned for its medicinal qualities and has been a part of traditional Chinese medicine for a range of health benefits, such as enhanced energy and immune support. People can easily access Cordyceps in supplement form. There are two main medicinal species: Cordyceps sinensis and Cordyceps militaris.
Chemical Constituents of Cordyceps
Now, let's break down the science. Cordyceps mushrooms are brimming with some intriguing chemical constituents that make them a hot topic. You've got cordycepin, a nucleoside analog that moonlights as an antitumor, antiviral, and immune system cheerleader. Polysaccharides, those complex carbs, join the party with their immune-boosting and antitumor antics. And ergosterol, a precursor to vitamin D2, shows off its anti-inflammatory and antitumor chops.
How Cordyceps Work
But how do these fantastic fungi work their magic? Well, Cordyceps might just be your immune system's trainer, whipping it into shape. They've got cancer cells shaking in their boots, especially when it comes to lung and skin cancers. Plus, they're like a shot of espresso for your energy levels and exercise performance. If you're tired of being tired, Cordyceps have anti-fatigue, anti-aging, and anti-cancer powers to rev up your engine. And they're not just for energy – they can give your sex drive a boost and even show your heart some love. In China, they're the go-to remedy for arrhythmia, a condition where your heartbeat likes to dance to its own tune. So, there you have it, a fungi with flair and some real health benefits!
Health Benefits of Cordyceps Supplement
Cordyceps mushrooms offer several potential benefits:
Enhanced Exercise Performance [1].
Anti-Aging Benefits[2].
Anti-Tumor Effects
Type 2 Diabetes Management
Fatigue Reduction
Heart Health Support
Anti-Inflammatory Properties
Precautions & Side Effects
Precautions
Avoid during pregnancy or breastfeeding due to limited information.
Skip if you have autoimmune diseases like MS, SLE, RA, or other similar conditions.
Discontinue cordyceps use two weeks before surgery.
Consult your doctor before using cordyceps if you have health concerns or are on medications.
Avoid if you have cancer or diabetes.
Side Effects
Possible mild side effects include diarrhea, constipation, and stomach discomfort.
It may exacerbate symptoms of autoimmune diseases.
Use caution if you have bleeding disorders, as it can slow blood clotting.
Increased risk of bleeding during surgery.
Overconsumption can lead to nausea, vomiting, or dry mouth.
Although extremely rare, allergic reactions can occur.
Remember, if you experience any adverse effects, it's best to discontinue cordyceps and consult your doctor.
What Form of Cordyceps Supplement is The Best?
To choose the right cordyceps form, consider your preferences. Cordyceps supplements come in powder, capsules, tinctures, and gummies.
Cordyceps powder suits those who enjoy culinary creativity. It easily mixes into shakes, smoothies, oatmeal, juices, coffee, and tea.
Tinctures, as liquid extracts, can be added to drinks or meals, or placed under the tongue. They're convenient for people on the go or those who dislike the taste of mushroom powder or struggle with swallowing capsules.
Capsules offer a traditional and straightforward option, but they often contain additives like silicon dioxide and stearic acid.
Gummies provide a tasty alternative, though many brands include sugar unless you opt for sugar-free versions.
Other Medicinal Mushrooms and Their Benefits
Reishi mushroom — also known as the "mushroom of immortality," has several uses in Eastern medicine. Eastern medicine practitioners believe that it can lower cholesterol, increase strength and stamina, boost the immune system, and treat lower urinary tract symptoms in males.
Chaga mushroom — a fungus that grows on birch trees in cold climates. People typically steep it in hot water and consume it as tea. It is believed to boost the immune system, reduce inflammation, and support liver health.
Lion's Mane — a distinctive-looking fungi with cascading, white, spiky tendrils. They are believed to support cognitive function and may have neuroprotective properties. They are also valued for their culinary uses and are often incorporated into various dishes due to their delicate, seafood-like flavor and texture.
Turkey tail mushroom — a fungus that grows on dead logs all around the world. It gets its name from its shape and color, resembling turkey tail feathers. Traditional Chinese medicine uses it to treat pulmonary diseases, and it is also being studied for its potential as a cancer treatment.
Maitake mushroom — a nutrient-rich fungus used in traditional Asian medicine. It is believed to help manage diabetes, lower cholesterol levels, reduce high blood pressure, and boost the immune system.
Shiitake mushroom — an edible mushroom native to East Asia and commonly included in food dishes. It contains a sugar molecule called lentinan, which is believed to offer several health benefits. Although studies have explored its potential to lower high cholesterol and treat infections, clinical data supporting these uses are lacking.
How to Choose the Right Cordyceps Supplement For You
When it comes to finding the perfect Cordyceps supplement for your needs, our list offers a variety of options, from capsules and powders to gummies and tinctures. But before you dive in, take a moment to get cozy with the ingredient list. You wouldn't want any unwelcome surprises, like discovering you're allergic or intolerant to something in there!
Now, let's talk types – there are two main Cordyceps players on the field: C. sinensis and C. militaris. Your choice depends on your goals. Need a mood boost? C. militaris might be your new best friend. If work's got you feeling stressed, C. sinensis could be the calming presence you're after.
Oh, moreover, make sure to cross-check the ingredients list to see if there could be any interactions with your prescription medication, in case you're taking any. To address these concerns, it's always helpful to consult with a qualified health professional. They can provide guidance tailored to your specific needs.
How We Create the Best Cordyceps Supplement List
To create this roundup of the best Cordyceps supplement, we considered various factors. These factors include examining the product's formula, assessing the brand's reputation, checking for third-party testing, evaluating the price per serving, and considering consumer reviews. By considering these aspects, we aim to provide you with a helpful and well-rounded selection of cordyceps supplements to choose from.
Ingredients
Which specific raw materials does the product utilize, and what scientifically proven benefits do they offer? Furthermore, can you provide information on the form of these materials? For example, if the product contains a micronutrient, is it in a bioavailable form of the vitamin/mineral?
Extraction Method
What are the advanced extraction techniques used in obtaining cordyceps extract for supplements, such as hot water extraction or dual extraction? Does the supplement solely consist of 100% mushrooms derived from fruiting bodies, rather than mycelium cultivated on grain like many other brands?
Dosage and Concentration
What is the recommended frequency for optimal results when using the product? How does the brand's recommended dosage compare to clinically-backed dosage recommendations for its intended purpose?
Manufacturing
Where is the product manufactured and what is the production process like? Does the brand use proprietary blends instead of providing a detailed list of ingredients? Is the product manufactured in a cGMP facility that follows quality standards? Additionally, do they consistently use proprietary blends instead of disclosing the exact composition of the product? Do they conduct regular annual audits to ensure adherence to best practices?
Additional Ingredients
Are there additional ingredients included in the product formulation? Does the product contain any grains, additives, or fillers?
Testing
What testing has been conducted on the product? Has it undergone verification by a reputable third-party source, such as a laboratory or institution?
Customer Reviews and Reputation
What are the customer ratings (pros and cons) for the product on the brand's website and third-party platforms like Amazon? Does the brand enjoy a positive reputation with satisfied customers and a robust track record of customer reviews?
Price Per Serving
What is the price for a single purchase? How much does each serving cost? How many servings does the product include? Is the higher cost of raw ingredients attributed to the brand or a proprietary blend of ingredients?
Amount of Mushroom Content Per Serving
What is the amount of mushroom content included per serving in the product? Does the product contain any other medicinal compounds? If so, how much of each compound is present in the product?
Brand / Company
How do customers perceive the brand in terms of reputation? Does the brand produce any other comparable products? Is the brand widely recognized and popular? Do health professionals trust or recommend the brand?
Subscription
Can customers set up subscription orders for the product? Are there any benefits or discounts available with subscription orders?
FAQs – Best Cordyceps Supplement
Which cordyceps is most powerful?
Cordyceps militaris is the most powderful. Two main cordyceps supplements are used in functional products: Ophiocordyceps sinensis and Cordyceps militaris. Cordyceps militaris is generally more potent and cost-effective, as it can be cultivated on a larger scale. It produces higher levels of the health-boosting compound cordycepin compared to Cordyceps sinensis.
Are cordyceps supplements good for energy support?
Yes, cordyceps supplements are beneficial for energy support. They can help enhance stamina and combat fatigue. Cordyceps are known for their natural energy-boosting properties, making them a popular choice for those seeking increased vitality and endurance in a natural and safe way.
How do I choose a cordyceps supplement?
Selecting a cordyceps supplement is easy. First, ensure it's from a reputable brand. Look for products with Cordyceps militaris for better benefits. Check the ingredient list and avoid additives. Consider capsule or powder form based on your preference. Consult a healthcare professional for personalized advice if needed.
Do cordyceps capsules work?
Yes, cordyceps capsules are effective. They contain concentrated cordyceps extract, offering the same health benefits as other forms. Capsules are convenient and ensure accurate dosing. Many people have experienced increased energy, improved endurance, and overall wellness with cordyceps capsules.
Who should not take cordyceps supplements?
Individuals who should avoid cordyceps supplements include pregnant or nursing women, children, and those with allergies to fungi. If you have specific health concerns or are taking medication, it's wise to consult a healthcare professional before using cordyceps supplements to ensure they are safe for your situation.
Summary: Are Cordyceps Supplement Worth It?
The Cordyceps supplements craze is riding a wave of popularity, driven by their promising health perks and the ever-increasing interest in all things natural for our wellness solutions. Our carefully curated list of the top 5 Cordyceps supplements is your golden ticket to smart, informed choices on the supplement shelf.
With the global Cordyceps market growing like a champ, these supplements are indeed a bright idea. Whether you're chasing an energy boost, beefing up your immune system, fine-tuning your athletic performance, or just aiming for all-around wellness, these superstar supplements tap into the magic of Cordyceps to fuel your 2023 health journey.
So, why not dive into the world of Cordyceps and savor the vitality and wellness benefits it serves? This remarkable fungus can help you thrive and enjoy your best life.
Disclaimer: Individual experiences may vary. It's recommended to consult a healthcare professional before adding new supplements to your daily routine.
References
1. Effects of the Mycelial Extract of Cultured Cordyceps Sinensis on In Vivo Hepatic Energy Metabolism in the Mouse. Retrieved from https://www.jstage.jst.go.jp/article/jphs1951/70/1/70_1_85/_article/-char/en
2. Cordyceps sinensis Cs-4 restores aging-associated changes in gene expression and extends lifespan in normal aged mice. Retrieved from https://faseb.onlinelibrary.wiley.com/doi/10.1096/fasebj.25.1_supplement.1090.13
Author